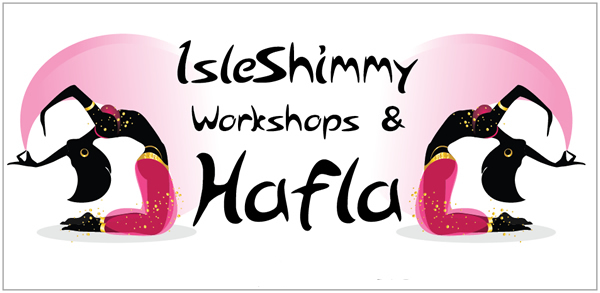 March 28th Isle Shimmy 2020
Isle Shimmy is an annual fun and friendly belly dance event.
This year we are lucky enough to have 2 amazing teachers!
Our first teacher is Heike, AKA Akasha.
Our second teacher is Michelle Pender
Workshops will be £20 each with FREE entry to the Hafla if you do both workshops.
Workshop 1: 12.30-2.30 – Tribal Bellydance with Heike
This is a modern bellydance style which fuses Traditional steps with Flamenco, Indian, Romany, Contemporary, Street Dance and other dance forms. In this workshop, we will explore some of the basic tribal movements and combinations, which take their inspiration from all sorts of dances, ideas – and places.
Don't be shy and bring your zillar/Zills for the fast section..
Lunch: 2.30-3.30
Workshop 2: 3.30-5 – Egyptian Pop with Michelle Pender
Tea and coffee is available all day.
Doors open for the evening Hafla 6.30, dancing starts at 7. There will be fewer dance slots like last year, so we have lots of time to boogie after.
Please bring a plate of food to share and your own beverages.
The lovely Michelle Pender will be bringing her souk- Whirling Dervish for all your sparkly needs.
Following the success of last year – there will also be a second hand stall, although not quite as large!!
There will also be the usual raffle.
Hafla Admission is £6 for adults, £3 for children.