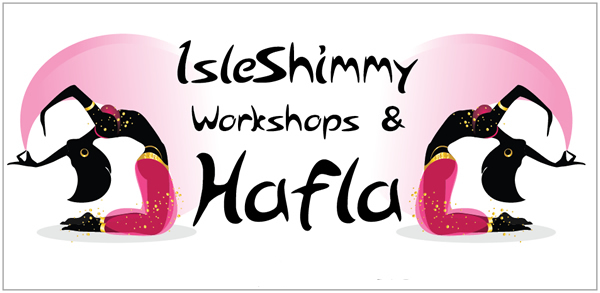 It's Shimmy Time again! We would like to welcome you to Isle Shimmy 2019, our fun and friendly event. This year Isle Shimmy is 10 – and there will be some birthday treats along the way!
This year we are again hosting the wonderful Lorna of Cairo as I had so many requests asking me to bring her back! There are 2 exciting workshops with our star guest teacher Lorna of Cairo, followed by an evening Hafla. Lorna is an expert dancer having performed in Cairo for many years. She is a warm and giving teacher, and generally a wonderful and beautiful woman inside and out.
Workshop 1 – 12.30-2.30 – Shaabi.
Lorna will be taking us through the technique, musical interpretation, cultural understanding and expression needed to perform this style of dance.
Workshop 2 – 3-5 – Lorna – Cairo Style.
In this workshop Lorna will play about with lots of styles of Egyptian music, picking out and working on technique to bring your dance up to date. No-one knows what is happening in Cairo better than Lorna!
Both Workshops and Hafla.
Workshop Prices:
There is the Early Bird price (until end of Feb)of £22 per workshop, or a combined ticket price of £45 for both workshops and Hafla.
From March 1 workshops will be £24 each.
Payment will secure your place. If you wish to pay by BACS message me for the details.
Doors will open for the evening Hafla at 6, with dancing starting at 6.30.
Please bring a plate of food to share and your own beverages.
The lovely Michelle Pender will be bringing her souk- Whirling Dervish for all your sparkly needs.
There will also be the usual raffle – but with a special addition!!
Hafla Admission is £6 for adults, £3 for children.