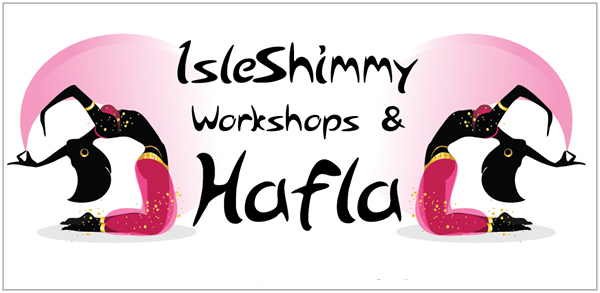 Isle Shimmy is a popular and long standing yearly event held in April.
This year Eastern Promise is extremely proud and very excited to be hosting the first visit to the Island from one of the best international dancers around – the fantabulous Lorna of Cairo!

There are 2 exciting workshops with our star guest teacher, followed by an evening Hafla.
Lorna is an expert dancer having performed in Cairo for many years. She is a warm and giving teacher, and generally a wonderful and beautiful woman inside and out.
Workshop 1 – Muscle Control – 1-3 pm.
This workshop will teach you where to power your moves from to provide even more punch in your pop! This class will involve some strengthening exercises.
Workshop 2 – Maximise Your Assets – 3.30-5.30 pm.
This workshop will maximise your assets in every sense! Lorna will take movements and show how to make many variations on them so they will suit your body shape, the audience, the music and the stage set up. This workshop will also incorporate some performance skills.
Workshops are £24 each.
£52 for both workshops and Hafla.
£52 Both Workshops and Hafla
£24 Muscle Control Workshop
£24 Maximise Your Assets Workshop
Payment will secure your place. If you wish to pay by BACS message me for the details.
Doors open at 7 pm and the Hafla will begin at 7.30.
£6 adults, £3 for children.
Bring your own drink and a plate of food to share.
Souk is Whirling Dervish by the wonderful Michelle Pender.
There will be the usual raffle!